By participating in the survey, community foundations can gain insight on many pressing investment and enterprise issues facing their organizations.
VALUE FOR YOUR COMMUNITY FOUNDATION
Our proprietary FEG Community Foundation Survey provides unique benefits to your organization:
BEYOND THE TRADITIONAL
COMPARISONS TO PEERS IN THE COMMUNITY FOUNDATION UNIVERSE
IN-DEPTH ANALYTICS TOOL
The FEG Community Foundation Survey goes beyond what traditional surveys cover within the segment. We explore enterprise trends of interest in addition to the basics of asset allocation and spending policy.
By participating, all participants receive the full survey report, which they can use to compare their organization to similar organizations in their field. The survey is open to all U.S. community foundations. Respondents to the 2016 survey represented 30 states, with assets ranging from less than $25 million to greater than $1 billion.
All participants are offered elite access to our interactive data where they can take a deeper dive into answers given for specific sections of the survey.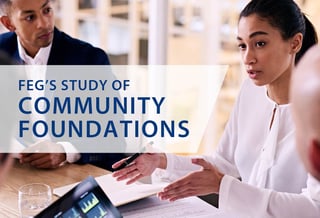 ABOUT THE SURVEY
For more than 28 years, FEG has been working as an investment consultant with Community Foundations. As the industry evolves, our clients are demonstrating considerable dexterity in the way they respond. Considerations of fees, spending policies, asset allocation, and current enterprise trends are now pressing issues. This survey aims to understand and give insight into those trends.
The study originated as an in depth look at spending policies among FEG clients. Given the interest in the results, FEG expanded the survey's scope and in 2016 opened participation to all Community Foundations. In 2017 the survey will delve more into Responsive Investing (which includes SRI and ESG) and investment committee structure. Click below to view the 2016 report.